"All it took was a few minutes for the stiffness in my lower back to completely disappear. I'm in shock with how simple but efffective this device is!"
-Stephanie T. SF, CA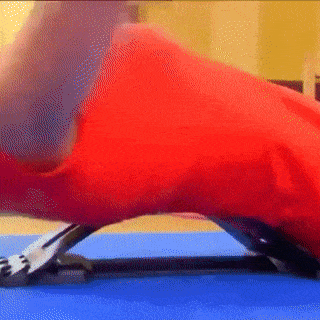 Do You Often Experience Back Pain?
Whether it's from sitting in front of a computer for long periods of time or a life long chronic condition, we've all had some type of back pain.
Acustretch is guaranteed to alleviate back pain and improve posture. By gently stretching your entire back on Acustretch for 10 minutes a day, its been proven to eliminate chronic back problems and restore your natural back curve in just 2 weeks.

Benefits
✔️ Helps relieves chronic back pain

✔️ Corrects postural imbalances

✔️ Decompresses spine to relieve pressure

✔️ Restores the natural curvature of the back

✔️ Improves flexibility in shoulder and back muscles

✔️ Relieve pain caused by Herniated Discs, Bulging Discs, Spinal Stenosis, Sciatica, Pinched Nerves

Multi-Level Design for the Perfect Stretch
18 Magnetic Points for a Acupressure Massage
Easy to Use
Relieve Back Pain in 10 Minutes

What Can Acustretch Fix?

Why It Is Important
When poor posture or back pain is not fixed, it escalates to further issues down the line which include: Headaches, Muscle Fatigue, Body Aches, Back Pain, and Poor Focus.
It's That Simple, 10 Minutes a Day, for 2 Weeks
It's easy to see that poor posture prevents a confident look, but did you ever wonder how good posture feels?
"I've suffered from back issues for 10+ years and relied on rolling on a volleyball to stretch and "crack" my back for years. Since I started using Acustretch, not only did back pain disappear, but my posture completely changed. Now I walk around with my head high and shoulders pulled back. I feel like a brand new person!"
Natasha L. Kailua, HI

A Long Term Fix
Acustretch is not about a quick fix. Once your body properly adjusts, your muscle memory will keep your good posture in place.
You'll start to notice very quickly how much less you need Acustretch. The goal is to build your posture to the point where you no longer need to rely on it everyday.
Use It Anywhere
Acustretch is designed to be used not only on the floor, but on chairs, and anywhere else you can rest your back on.
We all know how tough it is to sit still for long periods of time. Simply place Acustretch on a chair or car seat and let your back relax and stretch with ease.
Try It - Risk Free!
Try Acustretch completely risk free for 30 days. If for whatever reason you decide you aren't satisfied, contact our helpful customer support within 30 days of receiving your order and we'll refund you, no questions asked!